Real Estate Investor Workshop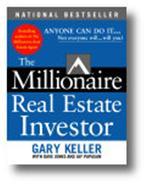 Did you know that...

- Real estate is STILL the most powerful investment vehicle affecting one's net worth
- Despite the gloom of the national media, it is a great time to expand your real estate portfolio in the Northwest
- Nearly 1/3 of all real estate sales in 2007 were second homes or investment properties?

Real estate can offer you and your family a predictable
and legitimate method for wealth building.

If you have been re-evaluating your wealth building strategies, call me for a free consultation and copy of The Millionaire Resl Estate Investor:
-Sound criteria for identifying great real estate investment opportunities
-Myths about money and investing that hold people back from taking action
-How to develop the mindset of a Millionaire Real Estate Investor
-Proven models to help you build your investment portfolio.

We at Keller Williams Realty are committed to helping you
identify your financial goals and attain them intelligently!
For more information, please call Katy Crofts at 360-584-6543 or email [email protected].